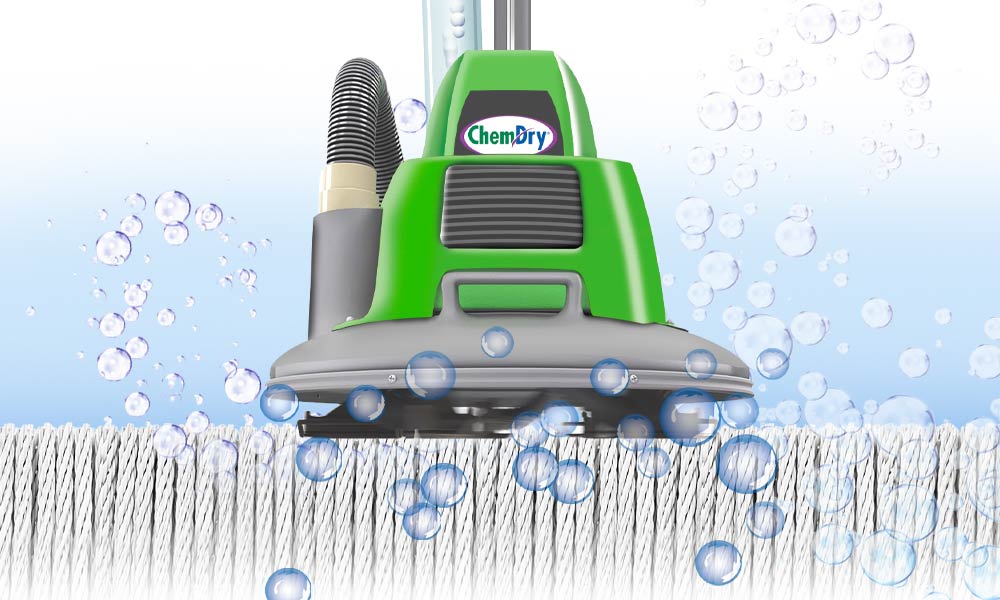 The Power of Carbonation in Kapolei, HI - Free Quote
When you're looking for the best carpet and upholstery cleaning service in the Kapolei area, you can count on us. We use the power of carbonation to deep-clean your carpets and give you longer lasting, healthier cleaning for your carpets and upholstery. Why do we use carbonation to clean? Here is the secret.
The Carbonating Secret Revealed
The Chem-Dry cleaning process was inspired when our founder, Robert Harris, saw how quickly club soda removes food stains from clothing. Carbonation not only removed the stains — it removed them without leaving soapy residues behind.
The secret behind the Chem-Dry cleaning method is our core cleaning solution, called The Natural®. This product harnesses the natural cleaning power of carbonation to deep clean carpets and upholstery.
When applied, The Natural® releases millions of microscopic, carbonating cleaning bubbles into your carpet. The carbonated bubbles penetrate deep into the base of the carpet, literally exploding the dirt and grime off of the surface of the fibers. The particles of dirt and grime are then lifted to the surface where they are whisked away by our powerful extraction equipment.
Carpets That Stay Cleaner Longer
Due to the natural power of carbonation, Chem-Dry does not have to use excessive amounts of moisture to deliver a deep clean to your carpet and upholstery. Because the bubbles do the work for us, we don't need to use the soapy cleaning chemicals that other cleaners so often rely on. Those soapy residues attract dirt like a magnet, which often causes your carpets to get dirty again shortly after a cleaning.
Our core cleaning solution, The Natural, contains no soaps, detergents, or surfactants. When your carpet stays cleaner longer and requires less frequent professional cleanings, you'll save money!
Reappearing Carpet Stains? No Problem with Chem-Dry
Carpet stains that reappear after cleaning are incredibly frustrating. There are two common reasons why this happens. One reason is that they were never thoroughly removed to begin with. Often the unwanted material causing the stain is forced down below the surface of the carpet by a high-pressure steam cleaning unit, only to resurface as the carpet dries. Another reason is that the cleaning solution used by many steam cleaners can create a sticky residue that attracts new dirt and grime to the same location as the old stain.
Through our use of carbonation, Chem-Dry thoroughly removes stains quickly and efficiently. We apply our solutions sparingly, and without high pressure or excessive water, so that resurfacing stains are not usually a problem. However, in the rare instances where a spot does reappear, we will too until the problem is solved.
You can see why Aloha Chem-Dry is your best choice. When you are looking for the best carpet cleaning around, please think of us. Call today for a free quote.
Get Your Free Quote Today!
Contact us to get your free quote and to schedule an in-home consultation today!